Real-time measurements
Air quality in the city centre and in Bonnevoie is measured on a continuous basis by the Environment Agency (Administration de l'Environnement). Around ten air pollutants are monitored, including nitric oxide and nitrogen dioxide (NOX), fine particulate matter (PM10), sulphur dioxide (SO₂), carbon monoxide (CO) and ozone (O3).
Real-time data may be viewed on the website of the Ministry of the Environment, Climate and Sustainable Development (Ministère de l'Environnement, du Climat et du Développement durable).
Municipal air quality measurements
Nitrogen oxides (NOx) are currently the main air pollutant in Luxembourg City. Produced mainly by vehicle fuel combustion, they exceed annual average emission limits along certain traffic arteries. In order to obtain targeted measurements and with a view to the future implementation of a traffic flow plan based on air quality, the City of Luxembourg has put in place its own semi-mobile measurement station. It shows the correlation between motor vehicle traffic and air quality. The results of these measurements are published below in the form of monthly and annual status reports.
To supplement the semi-mobile measurement station, the City of Luxembourg has – since 2017 – expanded the municipal air-quality sensor network by installing passive diffusion tubes. Although they are less accurate and only provide a cumulative value, these tubes monitor air-pollutant concentrations in several strategic places around the city. After being left outdoors for two weeks (on signposts or lampposts), they are replaced by the Service Circulation (Traffic Department) and then sent to a specialist laboratory for analysis.
The interactive map below shows where the NOx measurement station and the 11 passive tubes are located in the city, as well as the measurements recorded.
Air quality plan
In collaboration with the Ministry of the Environment, Climate and Sustainable Development, the City of Luxembourg has drawn up an air quality plan. This plan identifies the main emission sources for nitrogen oxides and fine particulate matter and sets out a programme of actions to fight air pollution.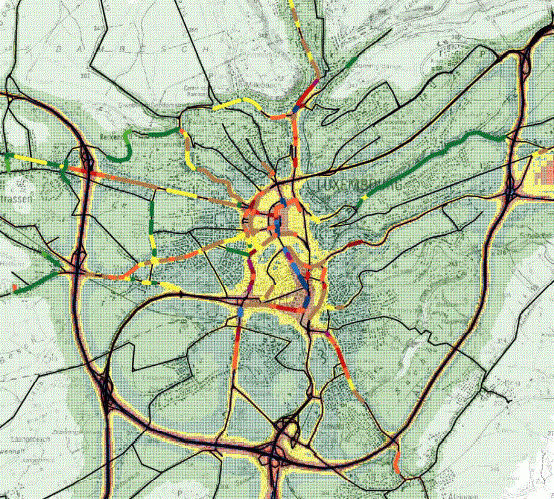 The City of Luxembourg's actions aimed at improving air quality are directed mainly at road traffic:
development of active travel options (bicycles and pedestrians)
modernisation of public transport systems
acquisition of natural gas and hybrid fleet vehicles
easing and streamlining of traffic via the dynamic regulation of traffic lights, 30 km/h zones in residential areas and pedestrian priority zones
planning for the proposed tram system
Energy is also a focus of the City of Luxembourg's actions:
energy consulting and financial assistance
expansion of the project to replace individual heating systems with connections to district heating
reductions in emissions by future heating stations
Climate Pact – Air quality
As a signatory to the Climate Pact, the City of Luxembourg received its "Air quality" certification on 15 May 2018, having achieved a score of 70%.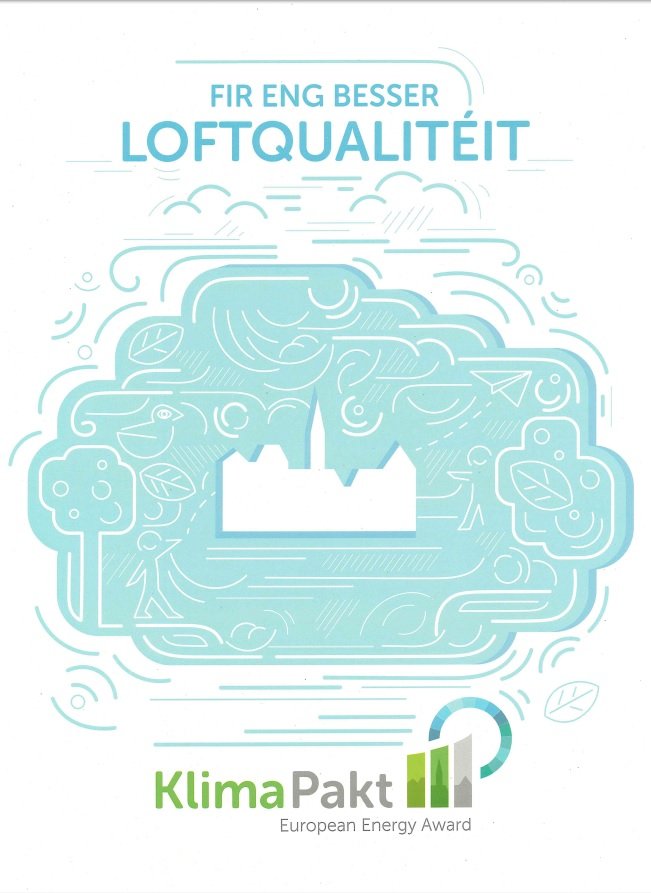 Wood fires
Here are some tips on how to properly use your wood stove or fire place. If mismanaged, fires can emit not only smoke and odours that are unpleasant for those around you, but also pollutants such as fine particulate matter and harmful dioxins.