Drinking water: from spring to tap
From the outset, the City of Luxembourg has always strived to ensure the excellent quality of its drinking water, as well as to be able to provide an adequate supply to serve the needs of its residents.
Tap water should be clear and colourless, with no unpalatable taste or odour, making it pleasant to drink. As a natural product containing a variety of trace elements and minerals, its characteristics vary depending on the properties of the rocks and soils it flows through. Depending on where it comes from, water will be more or less rich in calcium and magnesium, and sometimes soft or hard. Drinking water is by definition water that is safe to drink as it does not exceed the maximum levels for certain substances.
The City of Luxembourg provides residents with healthy drinking water, about 60% of which comes from the City's own springs in Muhlenbach, Septfontaines, Pulvermühl, Grunewald, Kopstal and Birelergrund. The remaining 40% consists of surface water from the Upper Sûre Lake.
Water sources in 2022 (in %)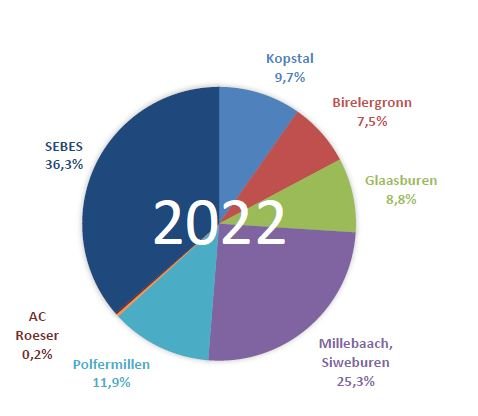 Benefits of tap water
Drinking water regularly improves your concentration and helps maximise your performance! Because the human body loses a lot of water throughout the day, you need to drink at least 1 or 1.5 litres each day (six large glasses) to renew your water reserves, even when you are not thirsty.
In addition, tap water is particularly good for your health. For example, did you know that a litre of tap water covers between 15% and 20% of your daily calcium requirements?
Regular maintenance
In order to guarantee an uninterrupted supply of high-quality drinking water, regular maintenance of reservoirs and water mains is essential, as is the gradual replacement of pipes and the expansion of the network with an additional 400 km of mains. The gradual reduction in non-revenue water within the supply network (water that has been produced and is "lost" before it reaches the consumer), the improvement in technologies limiting household consumption, and more responsible practices by consumers have led to a constant decline in per capita
water consumption.
Changes in drinking water consumption: 2012–2022 (in liters)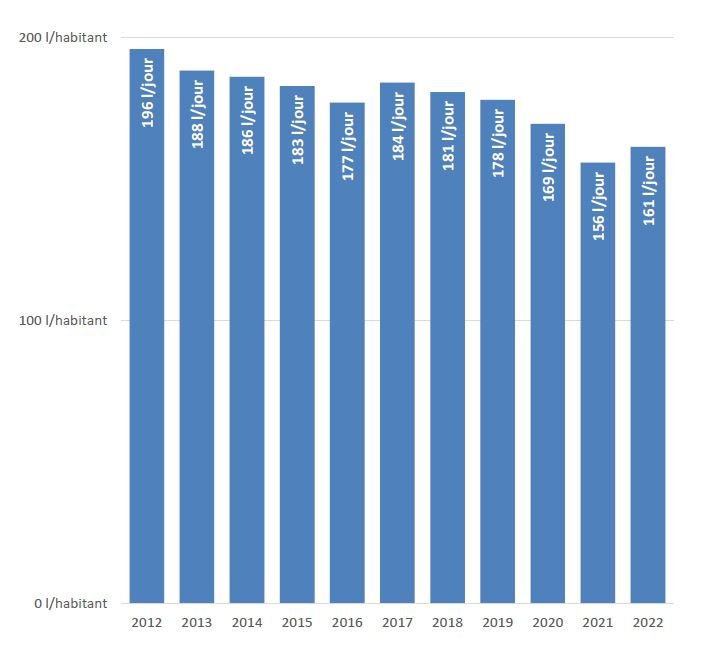 Reservoir water
Water from the dam reservoir system undergoes a five-phase treatment process at the Esch-sur-Sûre station, including ozonation, flocculation, sand bed filtration, deacidification and disinfection. To meet peak consumption needs, Sebes operates three additional sites with deep bore wells.
Hardness
The total hardness of spring water from the Luxembourg sandstone aquifer ranges from 14 to 18 German degrees (equivalent to 25 to 33 French degrees), and its nitrate concentration ranges from 13 to 43 mg/litre (maximum permissible concentration: 50 mg/litre). This spring water is well balanced in terms of calcium carbonate and carbonic acid concentrations, and has a well-rounded taste. Given its relative hardness, it has a tendency to precipitate calcium carbonate after reaching a certain temperature (55°C).
The water supplied by Sebes is rather soft, with a total hardness of 4.5 German degrees (8 French degrees) and its nitrate concentration is 20 mg/litre on average. Depending on the district, the water supplied comes from Luxembourg City's springs or Sebes, or is a mixture of the two.