Sports pour tous: Seniors (55+)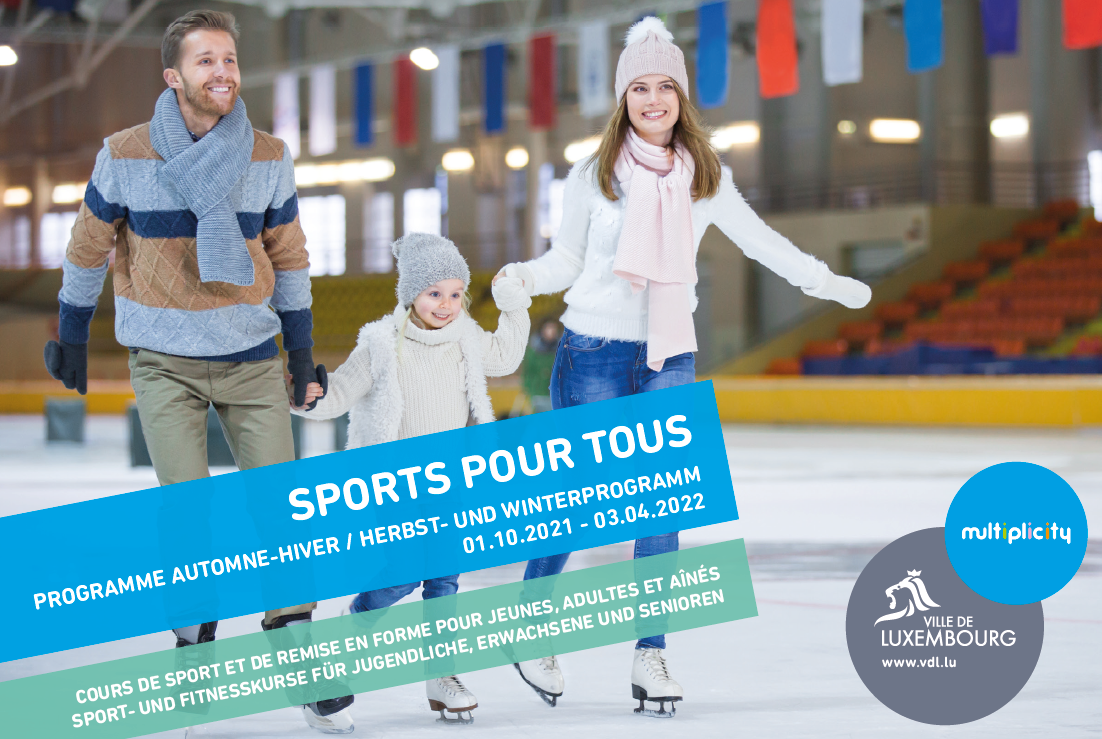 A wide range of activities have been especially adapted to the needs and abilities of people aged 55+: aqua fitness, gentle fitness, stretching, sports for seniors, gentle weight training on machines, dance for seniors, zumba, iceskating lessons for beginners, fitness for skiing, pétanque on ice, badminton, qi gong, tai chi chuan and chess.
The following classes are already full:
B1002, B1004, B1005, B1006, B2000, B2004, B2006, B2110, B2202, B3000, B3024, B3032, B3028, B3033, B3326, B3423, B3599, B3600, B4000, B4004, B4006, B4010, B4104, B4114, B4120, B4206, B4212, B5224, B5012, B5014, B5015, B5020, B5112, B5223.
Fees
Participation in the first class of the seniors programme is free. Starting from the second class, pricing is as follows:
For residents of Luxembourg City
per class and per season: €30 ​
season pass – seniors: €110
For non-residents of Luxembourg City
per class and per season: €60 ​
season pass – seniors: €220
The season pass for seniors provides access to all the courses in the seniors programme for an entire season,
including the activities of the special outdoor sports for seniors programme,
with the exception of certain classes that can only accept a limited number of participants, as well as classes for which registration is required. ​
Aquatics
All participants must also purchase an entry ticket to the municipal pool where the class will be held. These can be purchased at the pool, or at the Bierger-Center for the aqua fitness classes.
Sign up
Registration is required for all courses with a limited number of spots. Seniors can also enrol in the classes organised as part of the programme for adults.
Indoor activities
Sports for seniors: conventional fitness, adaptive sports, skill- and coordination-based games, as well as other sporting activities are offered in this course. These classes are run by municipal instructors and are designed to take account of participants' individual physical abilities. ​
Gentle fitness: engaging in gentle fitness allows you to maintain and improve your well-being. ​
Stretching: a useful addition to all physical and sporting activities, stretching is a risk-free way of improving flexibility and muscle tone.
Dancing for seniors - Seniorentanz: This class is held each week in the gymnastics hall at the G.D. Joséphine-Charlotte retirement home (Résidence d'accueil G.D. Joséphine-Charlotte). It is given by instructors who specialise in teaching dance to seniors. There are no clothing restrictions, although clean, comfortable shoes are recommended.
Intensive dancing for seniors: This is a higher intensity class reserved for experienced dancers, who are given the chance practise their moves in a fun and welcoming atmosphere.
Gentle weight training on equipment: a qualified instructor provides supervision and weight training advice in a well-equipped weight room. Individual training plans are prepared to improve muscle strength, especially in the core and lower limbs.
Chess: chess is a strategic game between two players who move figures around a board. The goal of the game is to "checkmate" the other player's "king" (i.e. to create a situation where the other player cannot move their "king").
Ice pétanque: Luxembourg City, in cooperation with Hiversport Eisstock-Club Luxembourg (winter sports club), organises games of pétanque on ice. Qualified trainers will teach you all about this enticing sport. It is recommended that you wear appropriate athletic gear during these classes, in particular sturdy, comfortable shoes.
Ice skating school: beginner classes are held every Tuesday in October at the Kockelscheuer ice skating rink.
Badminton
Outdoor activities
The purpose of these activities is to improve endurance, physical strength, and flexibility. We recommend that you wear appropriate leisure or athletic attire, in particular sturdy, comfortable shoes. The classes will take place over a day or half-day, regardless of weather conditions.
Nordic-Walking: during Nordic walking, you use 90% of your muscles. It is a good way of keeping fit while socialising with the other members of your group.
Gentle hiking: walks last around one or two hours and take place in the areas surrounding Luxembourg City. Walking in natural surroundings allows us to break free of the daily grind and stay fit in a fun way.
Walking tours for experienced hikers: Full-day hiking sessions organised throughout the country. The meeting point is always Luxembourg Central Station (Gare centrale). Participants must purchase their own train ticket. Participants must also bring their own lunch and drinks. Appropriate shoes are required. ​
Qi gong: movement and concentration techniques to increase vital energy and well-being. Exercises to control breathing and improve body awareness help the inner self interact better with the external environment.
Tai chi chuan: the subtle art of balance. Fluid and harmonious movements, breathing, and concentration are balanced to produce inner peace and deep relaxation.
Kayak trips: this programme focuses on teaching participants basic kayaking techniques and the fantastic health benefits of water sports. As part of the senior sports programme, kayaking combines all the benefits of keeping fit and experiencing nature.
Aquatics
The courses are organised in local learning pools across the city. You don't need to know how to swim to participate in these activities.
Aqua fitness: Aqua fitness allows you to maintain and improve your general well-being. During these classes, participants engage in a range of different activities that allow them to work every part of their body.
Swimming lessons: every Friday at the Gasperich pool.