Description
Eugène Kurth was born on 25 March 1868 in Dudelange. As an artist, he made his name as a flower painter. He studied art at the Academy of Fine Arts in Munich. He went on to co-found the Cercle Artistique Luxembourgeois (CAL) in 1893 and belonged to its Committee for several years. In 1894, together with his teachers, Ed. Hastert and J. Jerolim, he founded the "Luxembourg Vocational School".
The school's mission was to train masons, carpenters, machine manufacturers and painters. In 1898, he was appointed as a teacher at the École d'Artisans de l'État, which was established in 1896, and he held this position until he retired in 1930. He took part in his first public exhibition in 1894, as part of the "Exposition du Travail" ("Exhibition of Labour") in Luxembourg City. He went on to participate in several exhibitions and prize draws hosted by the Cercle Artistique, first in 1896 as an "interior painter" and then in 1906, 1908, 1910, 1911, 1912, 1913, 1914, 1922 and 1933. He and painter Dominique Lang comprised the jury of the 1919 Salon Artistique. He did not participate directly in Luxembourg's secessionist movement, which explains his gradual withdrawal from the Cercle Artistique's activities.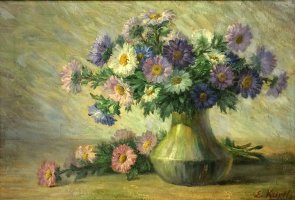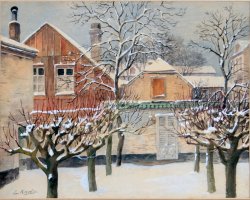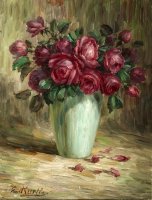 Go back
© Les 2 Musées de la Ville de Luxembourg
© Les 2 Musées de la Ville de Luxembourg
© Les 2 Musées de la Ville de Luxembourg
1 3
In 1942, he took part in the Ausstellung für Handwerk und Kunst at the Goethe-Institut in Luxembourg City. He was known for his paintings of flowers. "Eugène Kurth's watercolours are indisputably good: the drawing is meticulous, and 'Rosarium' and 'Peonies' are standouts", a critic wrote in the Independance newspaper on 10 August 1906. In 1912, Kurth exhibited paintings at the Munich Kunstverein and in 1916 at the "Coupe de Guerre" exhibition in Arlon. In 1913, Kurth joined the committee of the Cercle Grand-Ducal d'Escrime et de Gymnastique de Luxembourg (Luxembourg Grand Ducal Fencing and Gymnastics Circle), and in 1914 was elected to the organising committee of the Grand Concours international de gymnastique, de tir et de sports athlétiques (International Gymnastics, Shooting and Athletic Sports Competition). He created the poster for this major event. He was also a sportsman, and he won first prize in Flobert shooting in 1913.
In 1914, he became chair of the Shooting Commission. In 1925, the Cercle Artistique Luxembourgeois awarded him the Grand Duke Adolphe Prize for his paintings. In 1934, Kurth sat on the jury of the competition to create tourism posters promoting Luxembourg City. The National Museum of History and Art holds several of his works. A resident of Avenue de la Porte Neuve, he died on 9 June 1960.