Project overview
Spaces
The project entails the construction of three distinct spaces, namely:
a rest area,
a multi-purpose area, and
a playground area.
Vegetation
To meet ecological balance criteria, 42 trees will be planted, including four indigenous species: maple, linden, cherry and elm. The trees will provide shade and volume, and their foliage will promote ecological diversity. For decorative purposes, a variety of colourful shrubs and perennials will be planted around the rest and multi-purpose areas. A flower-filled meadow will form the backdrop for the trees around the multi-purpose area.
Herbaceous varieties and plants that attract bees have been chosen to promote biodiversity.
Urban furniture
Urban furniture will include picnic benches and tables, swings in the pergolas and lights along the main footpath.
For the benches, lighting and picnic tables, standard City of Luxembourg urban furniture will be used. Rubbish bins and deckchairs will be more contemporary in design.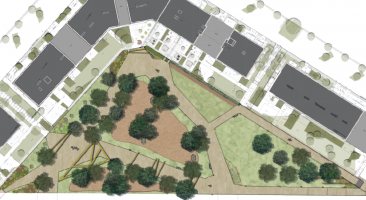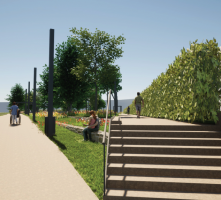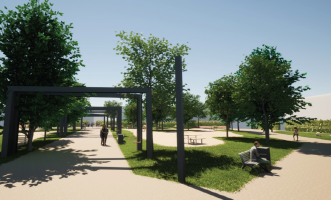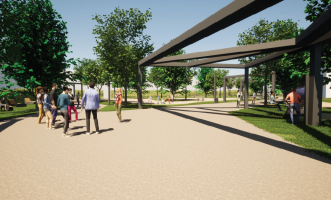 Go back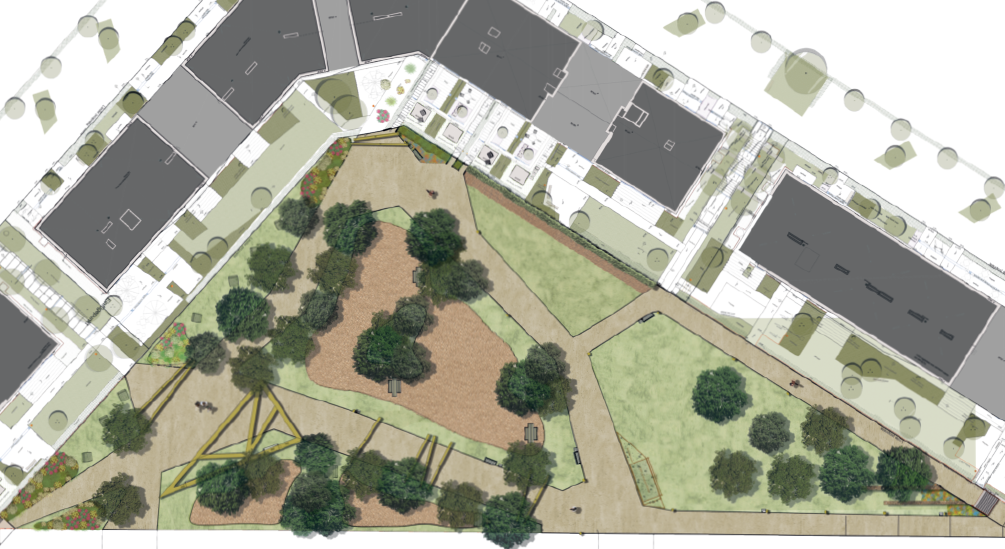 © Palea Architecture du Paysage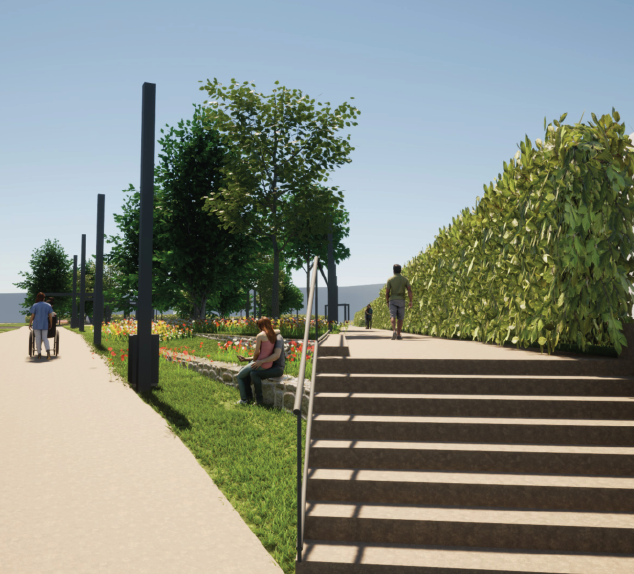 © Palea Architecture du Paysage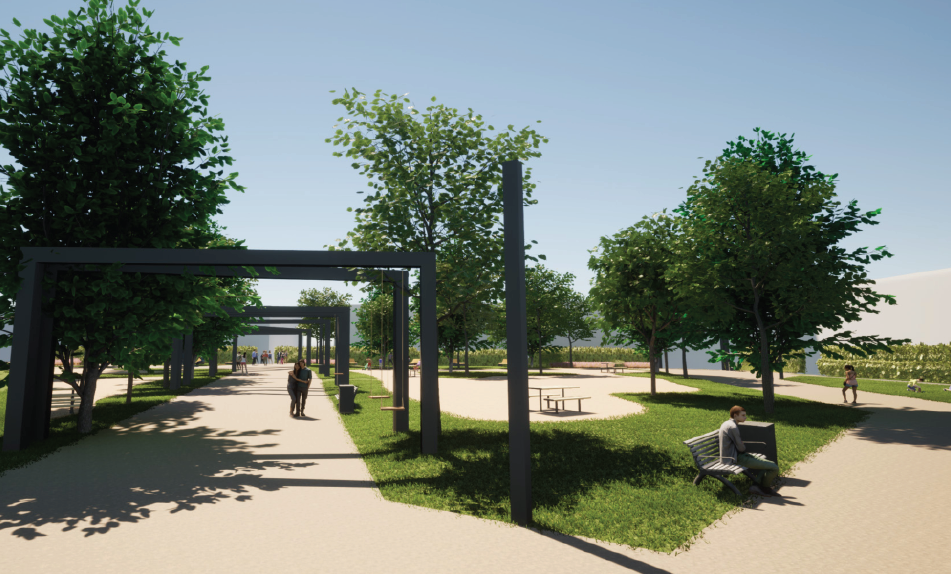 © Palea Architecture du Paysage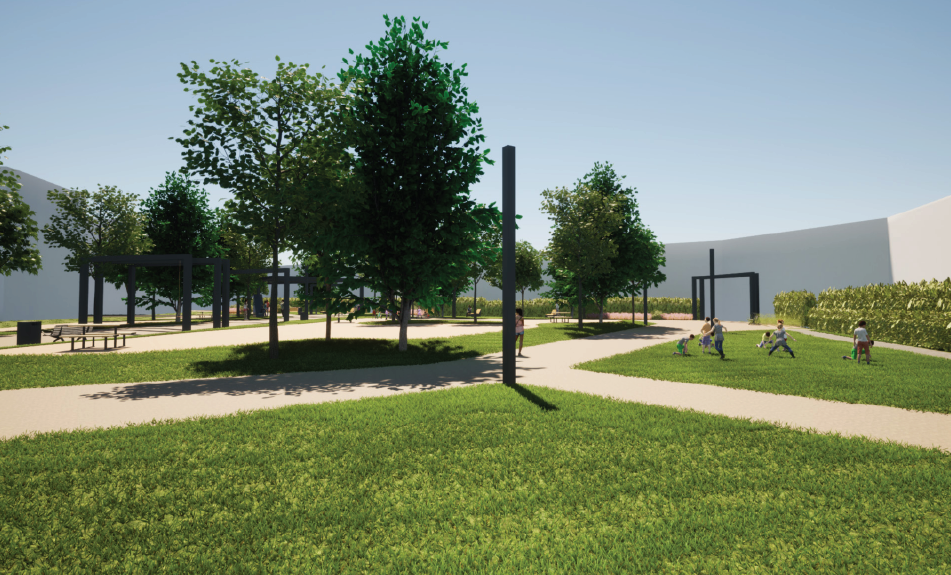 © Palea Architecture du Paysage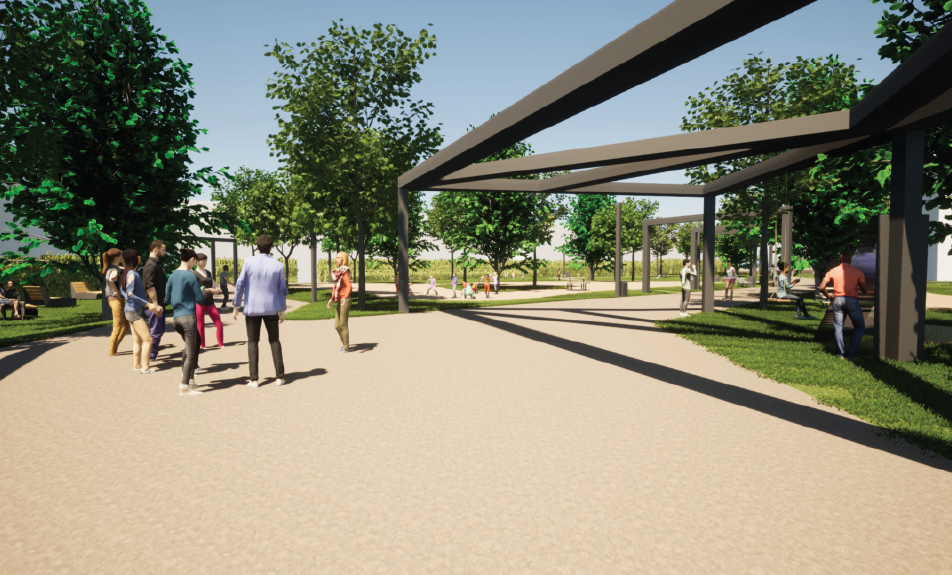 © Palea Architecture du Paysage
1 5
Rest area
The rest area is designed to be comfortable and intimate, with deckchairs in a sleek, contemporary design. The intimate, relaxing atmosphere will be further enhanced by the various colourful plant species. The two entrances near the rest area are set apart from each other and break up the landscape created by the vegetation. The entrances are further distinguishable by metal arches spanning the distance between each entrance and the pergola.
The rest area provides a quiet setting where visitors can relax and take in their surroundings. It also enhances the park with its aesthetically pleasing features and by promoting local biodiversity.
Multi-purpose area
The multi-purpose area can be used for a wide range of activities. With the trees in this area, and the shade they provide for visitors to the park who want to relax under them, the notion of ecological balance takes on its full meaning. At one end of this space is a section of natural dry stone terracing, providing a shaded spot to relax or gather with friends.
The multi-purpose area is a place where children and teens can meet, relax and organise small events, such as neighbour meet-ups, for example.
Playground
The playground area is intended for both young children (2–5 years) and older children (5–12 years). Bordering the playground are several geometrically shaped pergolas designed in a contemporary style, which provide shade and shelter should the need arise. The pergolas feature swing seats that are the perfect place to sit and read, or ideal for parents who want to keep an eye on their children.
Several picnic benches will also be installed in this area. Playgrounds should also promote social interaction. As such, the equipment will be based around different themes, giving the space its unique character while at the same time fostering children's imagination and creativity.