Les mesures sanitaires à la Cinémathèque
En accord avec les directives des autorités compétentes, nous prenons toutes les mesures nécessaires afin que vous puissiez profiter d'un moment de détente en toute sécurité :
La jauge de places disponibles étant plus réduite qu'habituellement, il est recommandé d'acheter les tickets à l'avance en ligne sur www.luxembourg-ticket.lu.
Uniquement les personnes du même ménage peuvent être assis ensemble. Dans ce cas, il est recommandé de procéder à l'achat groupé des billets.
La caisse du soir pour la vente des billets est ouverte au public une ½ heure avant les séances (dans la limite des billets disponibles). Le paiement par carte y est privilégié.
Des sièges numérotés seront attribués aux détenteurs de tickets. Il est impératif de respecter la numérotation des sièges.
Le port d'un masque ou d'un dispositif équivalent est obligatoire au sein de la Cinémathèque. Il peut être enlevé au moment où le spectateur est installé sur son siège.
Des gels désinfectants seront mis à disposition à différents endroits stratégiques au sein du cinéma.
Des procédures de nettoyage supplémentaires et rigoureuses seront mises en application.
Il est impératif de respecter les consignes du personnel formé pour répondre aux différentes questions.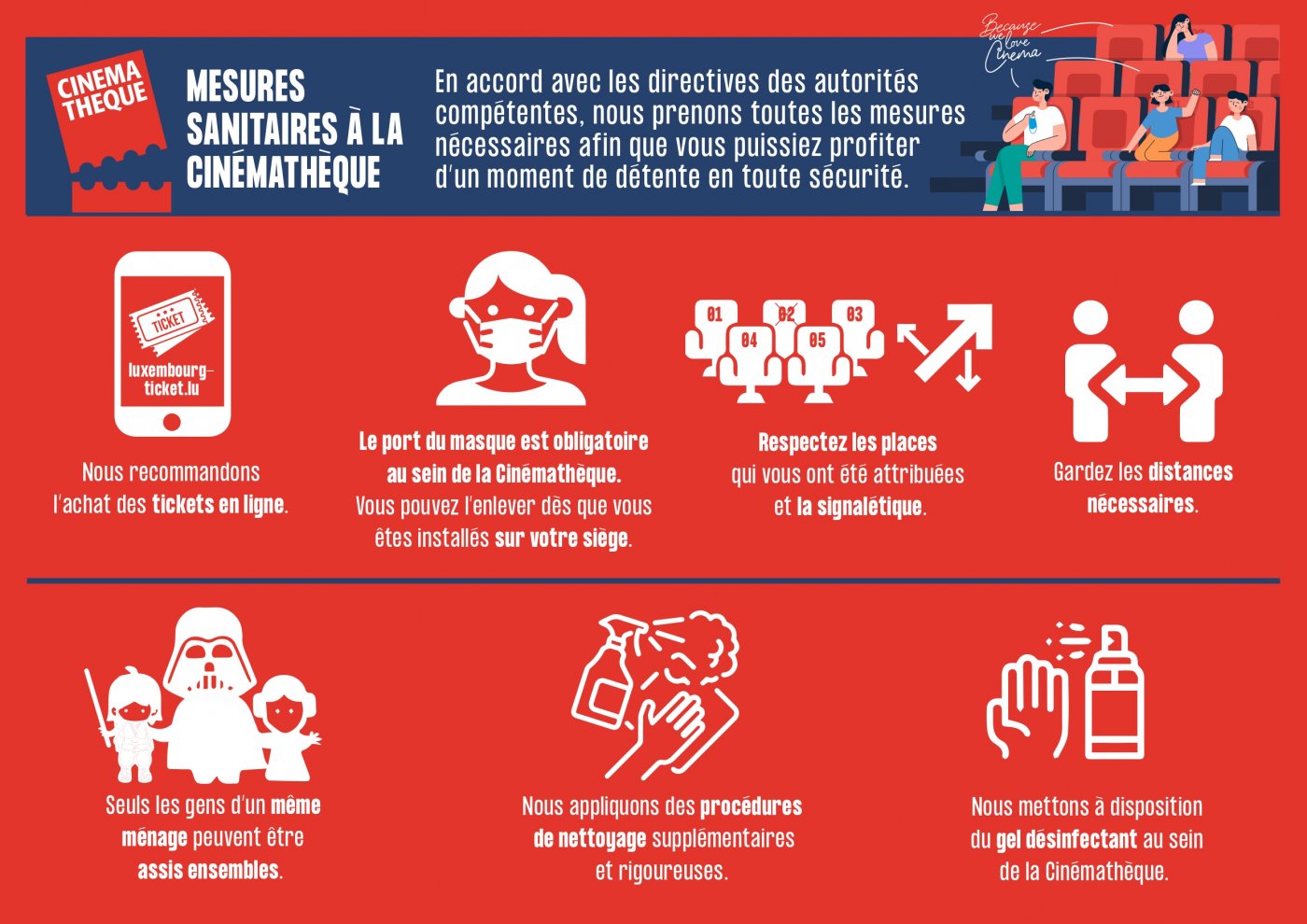 Tickets
Full rate
Ticket: €3.70
Book of 10 tickets: €25.00
Reduced rate*
Ticket: €2.40 / Book of 10 tickets: €17.00
*young people under 18, students and youth card holders, 65 and older
Programme
Never miss a show by signing up to receive the Cinémathèque's monthly programme. Simply:
Write your address on the registration form that is available at the Cinémathèque (Place du Théâtre) and drop it in the postbox at the entrance or submit it to the ticket booth in the evening
Send an email with your address and the message "monthly programme subscription" to the following address: cinematheque@vdl.lu
The cinema
All events and public showings organised by the Cinémathèque take place in the main auditorium at 17, Place du Théâtre.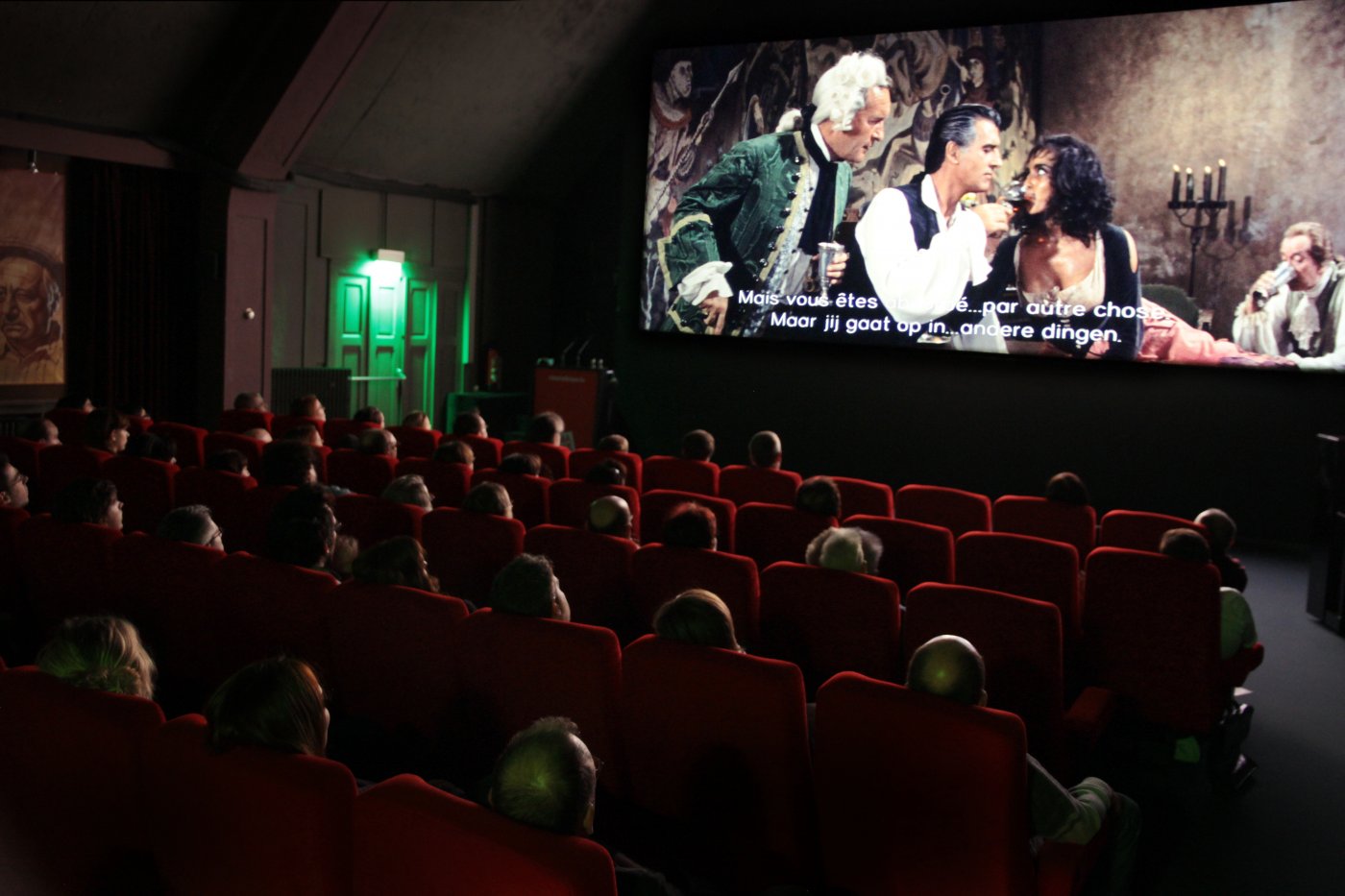 © Cinémathèque de la Ville de Luxembourg / Milli Schlesser
Administration, archives and library
The Cinémathèque's administrative offices, archives and library are located in Cloche d'Or.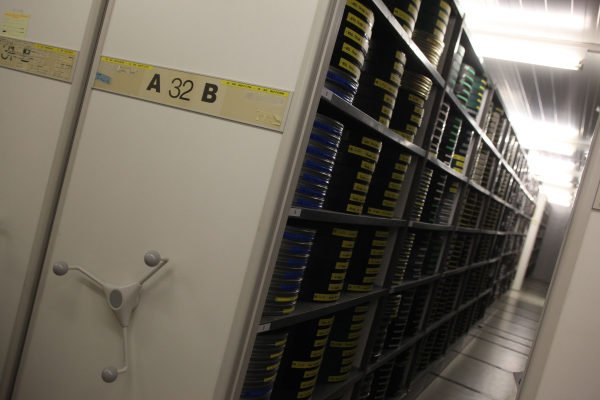 10, rue Eugène Ruppert
L- 2453 Luxembourg
Monday–Friday
8:00–11:45 and 13:00–16:45