Wantermaart (Winter Market)
Expect to find an array of chalets (54 in all) nestled around the Gëlle Fra. This year, a 13-metre high Sapin Doré (Golden Christmas Tree) will take pride of place, joined by a host of other attractions such as a giant pyramid, a 32-metre-high Ferris wheel, trampolines, a magic train, two rides ("Jungle Tour" and "Mon Beau Sapin"), as well as cafés and restaurants offering panoramic views of the Pétrusse and Pont Adolphe.
Dates, times and locations
The Wantermaart (Winter Market) at Place de la Constitution will be open from Thursday, 21 November to Tuesday, 24 December 2019.
Sun.–Thurs. 11:00–21:00
Fri.–Sat. 11:00–22:00
24 Dec. 11:00–17:00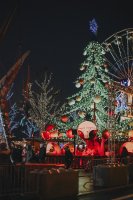 Go back
© Ville de Luxembourg_Anna Katina
© Photothèque de la Ville de Luxembourg, Marc Wilwert
© Ville de Luxembourg_Anna Katina
© Ville de Luxembourg, David Laurent
© Ville de Luxembourg_Anna Katina
© Ville de Luxembourg_Anna Katina
1 6
Käerzenatelier (candle workshop)
A candle workshop will be held at Place de la Constitution