Lights on!
This summer, the streets and public spaces in Luxembourg City will be decorated with colourful lampshades that are either strung overhead or mounted on giant street lamps located on various street corners. Enjoy this whimsical flair while you are out doing your shopping!
Where
Rue Louvigny between Rue Philippe II and Rue Chimay
Rue du Curé between Place d'Armes and Rue Fossé
Exhibition – Mini-Schueberfouer
A 16 square-metre, 1:87 scale model of a funfair complete with illuminations and functioning rides will be on show in a funfair-themed pop-up store, and is sure to enchant both children and adults alike.
As part of the exhibition, a number of winning entries in the Schueberfouer poster competition will be on display. A range of sweet treats will also be available for purchase.
Dates
From Tuesday, 3 August to Monday, 30 August 2021
Time
Tuesday to Saturday: 10:00–18:00
Sunday: 14:00–18:00
Monday: closed (except on the day of the Braderie on 30 August 2021: open from 10:00 to 18:00)
Venue
43, Grand-Rue, L-1661 Luxembourg.
Entry is free and reservations are not required, but capacity is limited.
Konscht am Gronn
From Sunday, 4 July 2021 until the end of October, the "Konscht am Gronn" outdoor art festival on and around the Grund Bridge will be held every first Sunday of the month, from 10:00 to 18:00.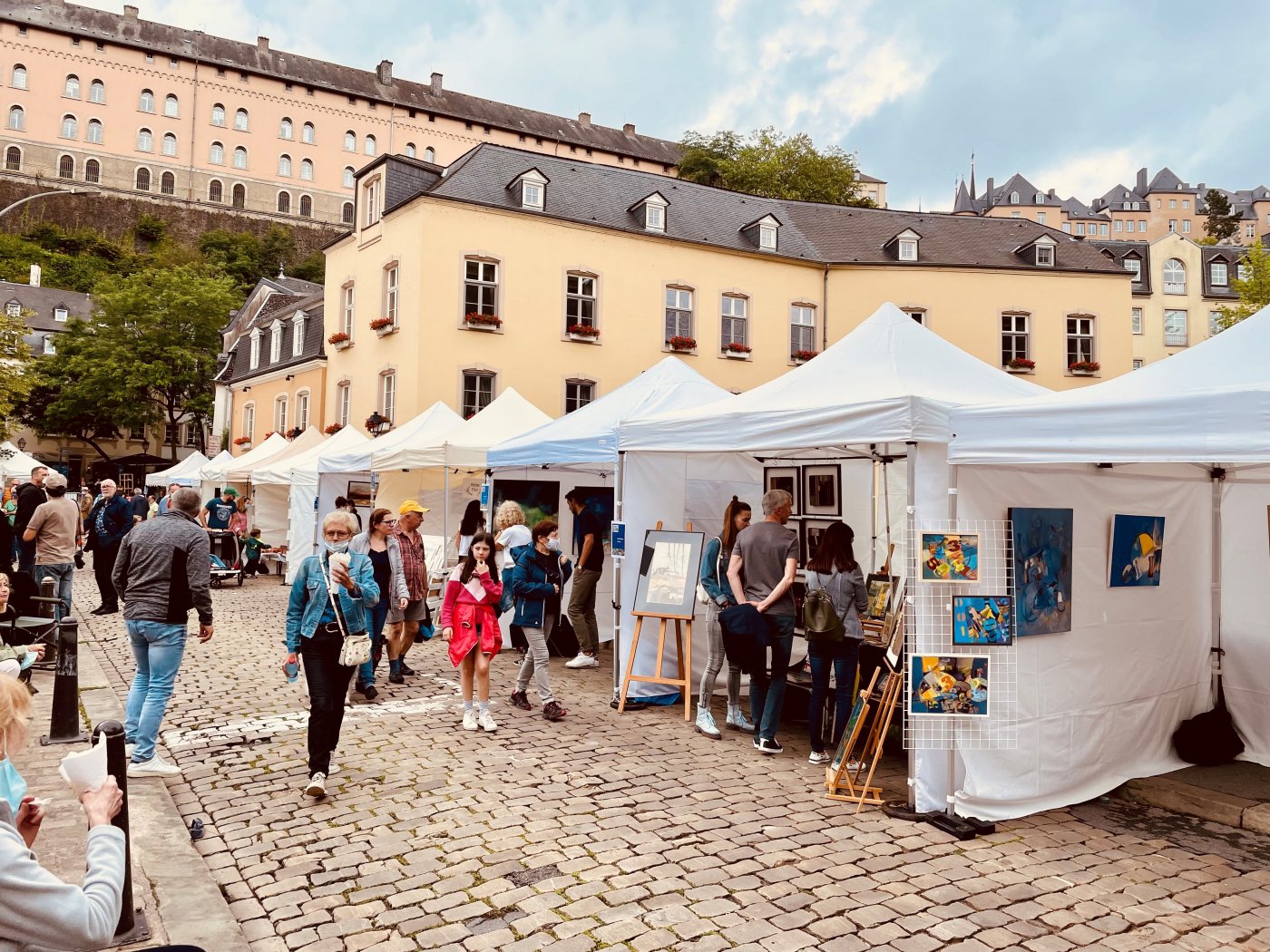 Markets in Luxembourg City
In addition to the "D'Stad lieft 2021" activities, Luxembourg City will be hosting a wide array of other events this summer:
Markets in Luxembourg City
Stater Maart
Located in the heart of the city, the Stater Maart is a biweekly market on and around Place Émile Hamilius that is held every Wednesday and Saturday from 7:30 to 14:00. Please note that the market will be closed on 23 June 2021 for National Day.
Bouneweger Maart
Located next to the Bonnevoie church on Place Léon XIII, the Bonnevoie market is held every Tuesday from 16:00 to 19:00.
Garer Maart
Beginning on 8 July 2021, the Garer Maart will be held every Thursday from 7:30 to 14:00 at Place de Paris.
Glacismaart
An unmissable event for Sunday strollers, the Glacismaart is held every third Sunday of the month from March to November, with a break during the month of August.
Flea market
The Luxembourg City flea market is a large street market where private individuals can sell second-hand items they no longer need. It is different to the antique market, which is reserved for professional vendors.
Upcoming dates
4 July 2021
1 August 2021
5 September 2021
3 October 2021
Antique market
The antique market (marché à la brocante) in Place d'Armes in the heart of Luxembourg City is popular with bargain hunters and visitors, who can peruse and acquire curios, collector's items and other treasures sold by professional vendors. The flea market, on the other hand, is reserved for private individuals. The antique market is a paradise for people who enjoy browsing through second-hand items.
Upcoming dates
10 July 2021
24 July 2021
14 August 2021
28 August 2021
4 September 2021
25 September 2021
9 October 2021
23 October 2021
Summer in the City
The Luxembourg City Tourist Office's "Summer in the City" programme includes a whole host of activities and events organised together by various partner institutions, including the City of Luxembourg.
The 2021 programme includes music, exhibitions, and theatre shows, as well as family and tourist activities. All of these take place in Luxembourg City.
For the full programme, go to summerinthecity.lu