Project overview
In Gasperich, the City is building a new public park to be enjoyed by everyone: local residents, pupils at the Ban de Gasperich school complex and people working at the business park, but also residents from all over Luxembourg City and the Grand Duchy as well as tourists..
Biodiversity will be given utmost priority: the park will feature a wide variety of indigenous trees and shrubs, as well as an orchard, dry grassland, a newly restored stretch of the Drosbach River, and much more.
Work will begin in early February 2020, and is scheduled for completion by summer 2022.
Once the work is complete, the park will span 16.6 hectares, making it the largest in Luxembourg City.
Go back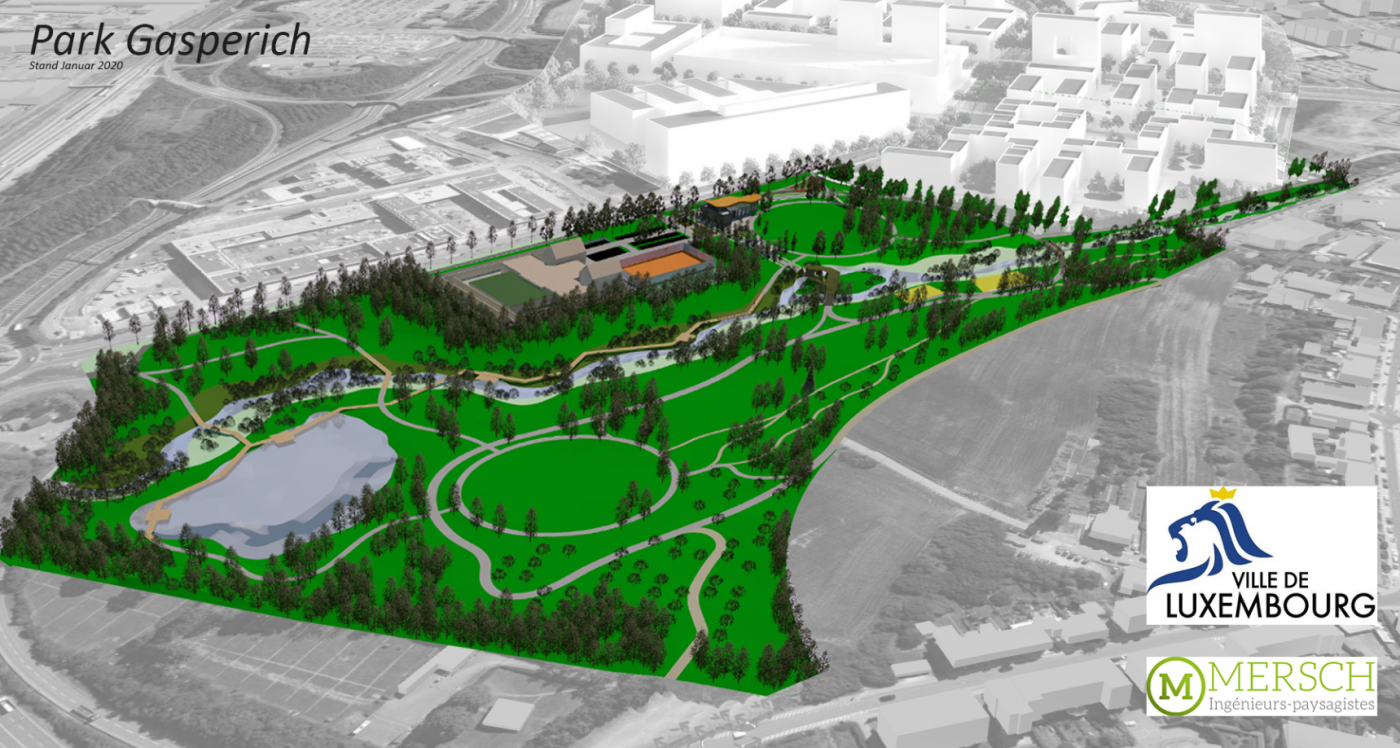 © Mersch Ingénieurs paysagistes - Ville de Luxembourg
© Mersch Ingénieurs paysagistes - Ville de Luxembourg
© Mersch Ingénieurs paysagistes - Ville de Luxembourg
1 4
Objective
Pond (7,000 m2)
Restoration of an 810 m stretch of the Drosbach River, helping to reduce the risk of flooding.
Recreational equipment and facilities:

Large playground with a climbing forest theme, suitable for all ages
Multi-use sports field, beach-volleyball court, outdoor gym (cross-trainers and other standard equipment)
Pétanque greens

Other features: pavilion, 630 m boardwalk, rest areas and pergolas, bridges, street furniture (benches, lounge chairs, picnic tables, etc.).
Public toilets in two locations
Restaurant/snack bar with terrace at the main entrance to the park
Landscape design
Grassy areas for recreation and relaxation
Dry grassland
Meadows cared for with late-mowing practices (for maximum biodiversity)
Floodplain forest and marshy areas along the Drosbach RIver
Indigenous trees to create shady areas and line the park; orchards with tall trees
Planted shrubs and flowerbeds of perennials
Network of branching paths (total length of approximately 4,500 m):

main loop with a sealed surface for cyclists, pedestrians, etc. (1,850 m long and 4 m wide)
network of paths with permeable surfacing (2,200 m)
boardwalk along the Drosbach River (630 m)
Accessibility
There will be a total of seven entrances, with the main one located on Boulevard de Kockelscheuer.
The park will be well served by public transport. There will be a car park with 50 spaces.
Works schedule
Planting: June/August 2020
Bridge: September 2020
Carpentry: October 2020
Playground: May 2021
Electrical work: October 2021
Street furniture: January 2022
Project completion scheduled for: summer 2022 (based on projections, and barring any unforeseen events)