Concept
To promote sustainable development, Luxembourg City is freeing up some of its land for development in order to actively participate in offering a variety of modern urban accommodation that is affordable for a diverse population.
In addition to other housing projects and initiatives spearheaded by Luxembourg City, such as the "Baulücken" project (launched in 2006) and various student accommodation projects, the City is taking a creative, trailblazing approach in proposing a pilot project for car-free living in Limpertsberg.
The objectives of this project are to:
improve quality of life for these residents and the neighbourhood in general;
increase the number of public spaces and communal areas where people can come together in the neighbourhood;
reduce construction costs and therefore purchasing costs for housing;
reduce soil sealing.
These objectives are achieved through the absence of garages and parking spaces; this allows for better use and better treatment of the available space.
In order to transparently execute a high-quality project that best accomplishes the stated objectives, in late 2010, the City issued a Europe-wide public call for tender for the design, construction and marketing of the car-free living project ("Vivre sans voiture"). This call for tender was aimed at investor–developer–architect teams and took place in three phases between October 2010 and July 2011.
Site
The 7,000-square-metre site proposed to house the car-free living pilot project is located in Limpertsberg, a 15-minute walk from the city centre, on a block bounded by Rue Ermesinde, Avenue Pasteur, Rue Henri VII and Avenue de la faïencerie. Owing to its location, there is no need to use a car on a daily basis.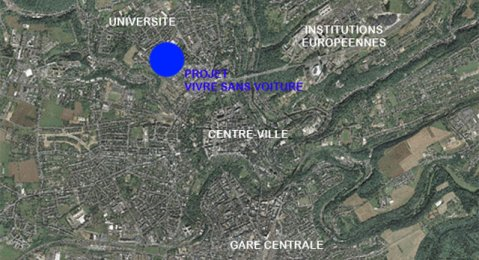 The advantages of the site for the car-free living project are as follows:
Limpertsberg is a mixed urban neighbourhood (with local businesses and existing infrastructure);
walkability (nearby cafés, businesses, schools, sport facilities, parks, etc. < 700 m);
the site is easily accessible by public transport;
the site is close to the city centre (1 km away);
a car-free living project facilitates the building of new accommodation without generating additional traffic in the neighbourhood.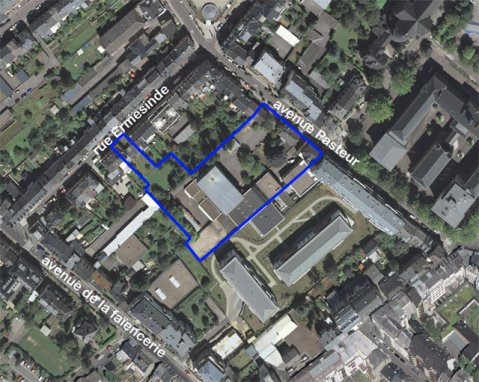 Winning project
To evaluate the applications and projects submitted, a Committee and Technical Committee were formed. The final Committee meeting of 14 July 2011 selected the following project as the winner, from among the three finalists:
Team: Tracol Immobilier SA (investor-developer) / Tatiana Fabeck Architecte (architect)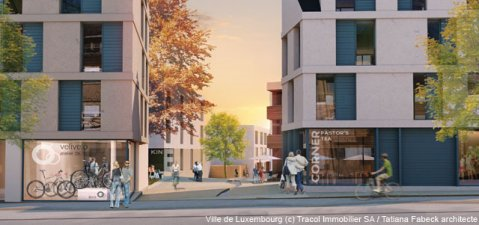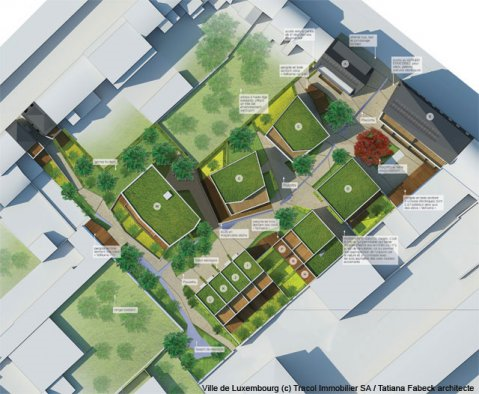 Strengths of the project:
Well thought-out and developed concept that goes beyond the main principle of car-free living
Idea of an urban orchard giving a strong and unique identity to the new neighbourhood
Density suited to the neighbourhood
Mindful integration into the block
Seamless flow with the buildings on Avenue Pasteur
Diversity of accommodation
Innovative construction
Green roofs with little equipment on them
Pleasing route within the block
Good integration of private spaces
Modern architecture and refined facades
Attractive sale/rental prices
Other projects
The other two teams who participated in the last phase of the tender were:
Kikuoka Luxembourg SA (investor-developer) / Romain Hoffmann Architectes et Urbanistes SARL (architect)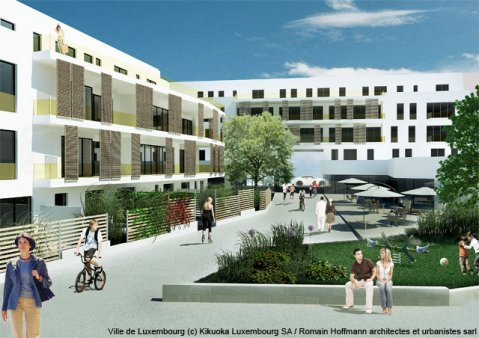 KOBA p/a Claude Konrath Promotions (investor-developer) / Ballini Pitt & Partners (architect)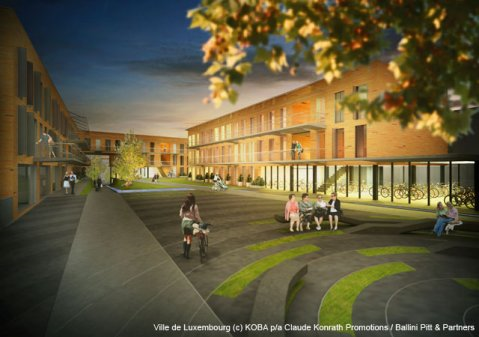 Works schedule
Commencement of work: June 2017
Planned duration: 36 months
Planned completion: June 2020