Project overview
Several imperatives prompted the decision to build the Kirchberg water tower, the most notable among them being the need to secure the provision of sufficient drinking water for the Kirchberg district, whose population is growing and where many jobs are set to be created in the coming years, in addition to the numerous existing European institutions and the Hôpital Kirchberg with the Bohler clinic.
The water tower will consist of two tanks – 600 m3 and 400 m3 – affording a total capacity of 1,000 m3. They will be sprayed with a mineral mortar coating consisting of a cement base that is free of organic additives.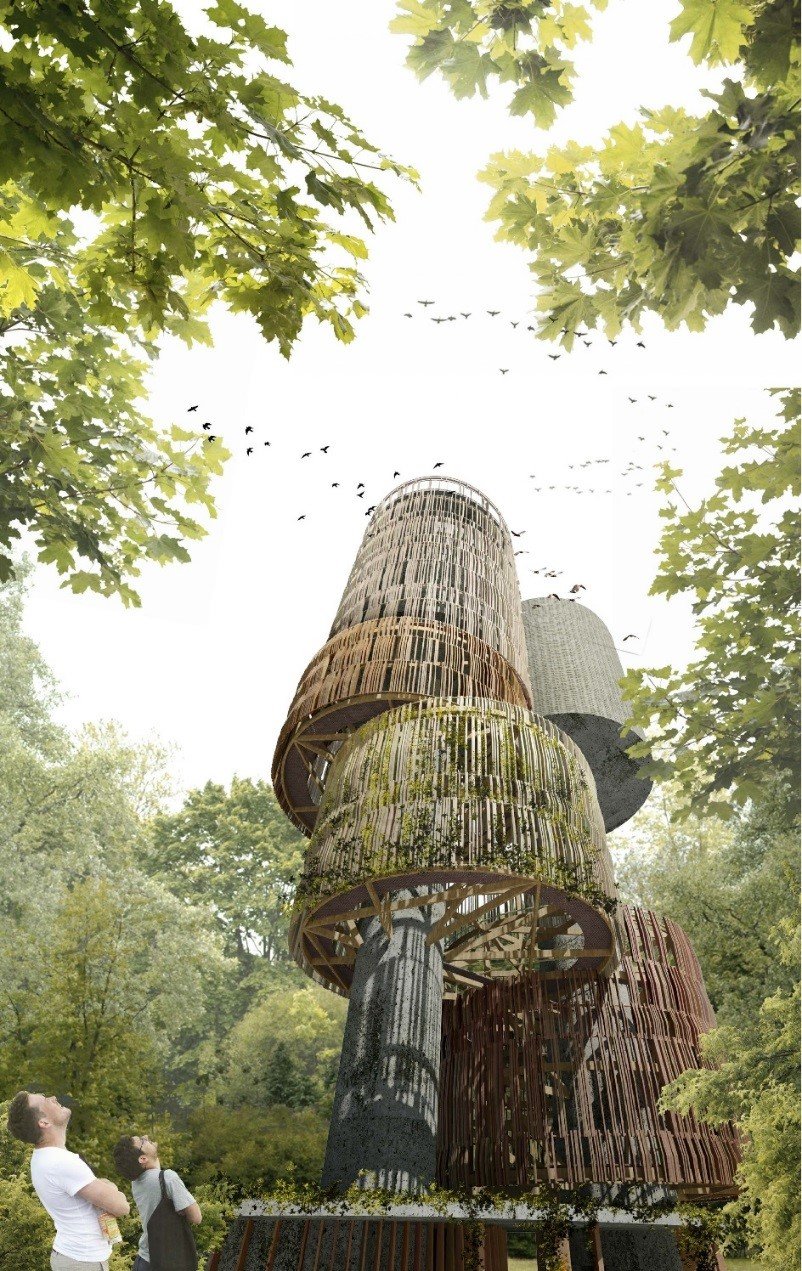 © Ville de Luxembourg
Works schedule
The works are scheduled to be completed by November 2023.
Progress on the site
In October 2015, the City held an architecture competition to solicit proposals in the form of preliminary designs for a water tower in Kirchberg. The call for applications drew 39 responses from which the members of the selection panel chose 5 architecture firms to advance to the second round, i.e., the award phase. On 7 June 2016, the members of the award panel decided to award the first prize to the consortium formed by Temperaturas Extremas Arquitectos and Simon-Christiansen & Associées.
On 13 January 2017, the college of the mayor and aldermen commissioned the architecture firm Temperaturas Extremos Arquitectos to develop the project based on the panel's recommendations.
Location
The Kirchberg water tower will be built on the north-eastern tip of the Kirchberg plateau. This location was chosen for two reasons: (1) it is the highest point topographically, and (2) the location already has an existing SEBES (Syndicat des eaux du barrage d'Esch-sur-Sûre) drinking water conveyance system.
One project, with many parties involved
PROJECT OWNER
Ville de Luxembourg – Service Eaux (Water Department)
CONTRACTOR
Architecture firm: Temperaturas Extremas Arquitectos
Civil engineers: Simon-Christiansen & Associés
Technical equipment: Socom/Hydroconcept
Soil survey by: Geoconseils
Health and safety management by: D3 Coordination S.A.
BUILDING TRADES
Structure and external facilities: BamLux S.A.
Architectural portion – Facade: BamLux S.A.
Electricity: Socom/Hydroconcept
Piping and electromechanical systems: Socom/Hydroconcept